History 1880-1954
In 1880, the church was once again enlarged and remodeled. This work, which was completed in 1881, included the addition of an elaborate Romanesque face and twin towers surmounted with delicate cupolas.
1880-1954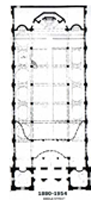 After the Jesuits left the parish, it was staffed by a priest of the Archdiocese. Further alterations had to be made in 1954, under the supervision of the Shrine's pastor, Father Anthony Corey. At this time, for reasons of safety, the beautiful original towers were shortened and the cupolas replaced by heavier hexagonal caps. This altered the exterior of the building considerably and detracted from its former beauty.
While now owned by the Archdiocese of St. Louis, the Shrine of St. Joseph is leased to The Friends of the Shrine of St. Joseph, Inc. - a not for profit 501(c)3 corporation. All donations are tax deductible to the extent allowable by law.