History 1846-1866
This beautiful historic church, located at the corner of 11th Street and Biddle in St. Louis, Missouri has a vast and interesting history. The church had its beginning in 1843.
1846-1866
The Society of Jesus, "The Jesuits" founded the parish to serve the area's residential community consisting mostly of German immigrants. In addition, the Shrine is one of the few churches in the Midwest to be the site of a Vatican-authenticated miracle.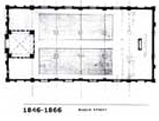 After founding the parish in 1843, the Jesuits immediately began plans for building a church. Mrs. Ann Biddle, a wealthy widow, known for her many philanthropic deeds, donated the land for the new church. The cornerstone was blessed on April 14, 1844 by then coadjutor Bishop Kenrick (later named Archbishop of St. Louis). The completed structure was a modest building facing west toward 11th Street. It was dedicated on the first Sunday in August of 1846 with Father James Van de Velde, later Bishop of Chicago, officiating.
St. Joseph Parish soon became a very active community. In 1862, a large parish school was built nearby. The Sisters of Notre Dame staffed the school for the many children of the area.
In late 1864, a German immigrant, Ignatius Strecker, was suffering from an injury he incurred while working at a St. Joseph Church layout 1846-66 local soap factory. Despite every known treatment, Mr. Strecker grew worse and was finally told by doctors that he had two weeks to live.
1866 - 1880 History